Who Are You?
I am the cook, housekeeper and mother of the nations.
I am Eve, a formation of God's last creation,
wife to Adam and best known for eating from the Tree of Knowledge.
But still I am more…


I am Woman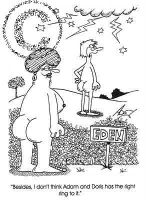 Besides, I don't think Adam and Doris has the right ring to it"


If someone asked you who you are, what would you say?

Maybe you'd say that you're the light of your parents' lives, a pesky baby sister, a wonderful lover, stay-at-home mom, a wife, a career woman, a bitchy boss, a Sunday school teacher, a single parent, a great friend... yada... yada..


But what happens when those labels are removed?

Can you answer the question, "Who are you?" without giving yourself a label?